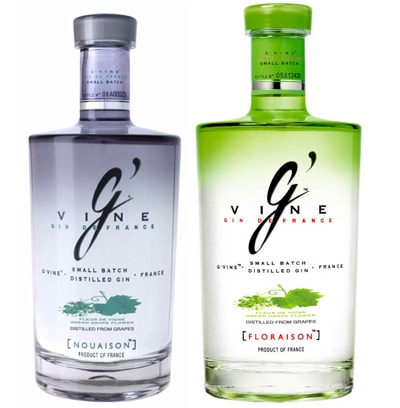 Gin and Bear it There's a new kid in town!
I was introduced recently to G'Vine, the only white spirit distilled from a grape spirit, starring the vine flower and boasts a soft and delicate floral bouquet. Unlike the other heavier scented gin that sits on my private bar, this newcomer to my collection has a smooth and satisfying combination of nine botanicals which have been chosen for their purity and aromatic properties. The tantalizing blend of ginger root, liquorice, green cardamom, cassia bark, coriander, juniper berries, cubeb berries, nutmeg and lime, make it a unique and light gin that can be enjoyed on its own or in a mixed drink. After opening the beautifully packaged gin in its' clear and citrus green colored bottle, I was pleasantly surprised by the lack of a strong alcohol aroma. The essence of lime was the primary scent, followed by a licorice flavor on the tip of my tongue. I was able to sip my G'Vine Gin without any other added ingredients, which made this taste test a pleasure.
Rarely drunk on its own, gin is a relatively dry spirit making it a great base for a simple drink such as gin and tonic, as well as the more exotic drinks with multiple additives such as a Pink Lady. The G'Vine infusion, which has been created by EuroWineGate, is unique to the gin family. The rare green grape flower, which lasts just two weeks after blossoming in June, is handpicked and carefully macerated into the Ugni Blanc grape spirit grown in the region of Cognac. In a second step, the neutral grape spirit which is must smoother and more suave than the traditional grain spirit, is then distilled in small batches. After which the rare combination of botanicals listed above is added. "We have combined the best of fine French craftsmanship with innovative distillation techniques to create G'Vine" said Jean-Sebastien Robiquet, founder and master distiller of EuroWineGate. "Gin is the original flavored vodka and G'Vine, with its combination of pure grape neutral spirit, whole-fruit botanicals, and infusion of vine flowers reflects the same value offerings driving the vodka segment today." How can you not have a wonderful product to offer when you have a partner like Bruno Roux de Reilhac, as well as an elite team of people coming from the wine & spirits, perfumes & cosmetics, and food engineering industry?
If you are on a quest for a gin that is different from the rest, give G'Vine a try. Currently, the initial distribution will be in Florida, Illinois, Massachusetts, New York City, Washington, DC, as well as Upstate New York. Once these lucky states receive G"Vine, there will be an aggressive expansion into the rest of the United States. With a suggested retail price of $38, G'Vine will be the rave at your next social event or during your own private tasting experience.
Source:
Image Credit